Wookah
"Why not make a hookah where quality, design, and finish come first?" - They inquired internally.They wanted to create a shisha that would stand out from the ompetition . Every detail, connection, seal and joint was equally important to them, as well as the nature of materials .Additionally, this was the beginning of the concept of using wood.Two words join together with WOOKAH: hookah and wood. Their hookah made of wood.
Their company's symbolic beginning dates back to the Frankfurt-based ShishaMesse trade show in 2015. At this exceptionally fair, they theyre allowed the "Product of the Year" grant. However, they have been in the business since they were students in 2005.
Wookah Hookahs - A Synonym for Elegance and Quality
Welcome to the enthralling world of Wookah Hookahs! If you are in search of a unique blend of elegance, quality, and performance, Wookah hookahs are the perfect match for you. As true masterpieces of craftsmanship, Wookah hookahs combine exquisite wood with high-quality stainless steel components. These wooden hookahs are renowned for their durability and aesthetically pleasing appearance, making a statement in every smoking session.
Unparalleled Longevity and Flawless Performance
The use of V2A stainless steel in the smoke column and other parts bestows each Wookah hookah with impressive longevity and absolute rust resistance. You can rely on your Wookah water pipe to remain immaculate even after years of use. Additionally, the stainless steel ensures that the taste of your smoke remains pure and unadulterated. The precise ground joints facilitate handling and enhance the overall smoking experience.
Innovation Meets Tradition
Wookah embraces a combination of innovative features and traditional hookah culture. With a closed-chamber system and special drillings, it ensures that stale smoke can be easily blown out, guaranteeing a clear and clean taste. The Quick Lock systems and Ground Joint Connections allow for easy and secure hookah hose attachment.
Conclusion: A Wookah Hookah is the Crown Jewel of Your Smoking Experience
Whether you are an experienced hookah aficionado or just stepping into the world of water pipes, a Wookah will surpass your expectations. With its combination of handcrafted wood, high-quality stainless steel, and innovative features, the Wookah hookah offers an unparalleled smoking experience. Be enchanted by the elegance and quality of a Wookah and dive into endless hours of indulgence.
The Wookah Production
Poland is the location of the entire production process. Each of their shishas is distinctive due to the use of a variety of domestic and exotic woods. They use stainless steel, natural leather, lead-free crystal glass, glass, and ceramic in addition to wood. The secret material they use for the interior of their hookahs, lacquers, and glues are approved for use with potable water.They use only materials of the highest quality and carefully select the materials.Their waterpipes are mostly made by hand, but the more intricate ones are made with CNC machines.
You, their client, are their most important customer.They want to treat you like a person.Because they want you to be happy with their products and services, they value every one of your opinions.Additionally, their products can be used with the majority of accessories on the shisha market because they are designed to accommodate individual preferences.Additionally, they are compatible with a variety of other waterpipes.
They will do their best to surprise you every time, staying true to their concept and meeting their high quality expectations.
Weiterlesen
Die Wookah Modelle
Unsere hölzernen Wasserpfeifen zeichnen sich durch ihre ungewöhnlichen Formen und die hohe Präzision der handwerklichen Verarbeitung aus. Die Tatsache, dass wir eine breite Palette von einheimischen und exotischen Materialien und die Kombination verschiedener Holzarten verwenden, gibt Ihnen die Möglichkeit, ihr beispielloses Aussehen zu genießen. Sie können aus einem sorgfältig ausgewählten Holz wählen und es entweder mit einer Holzschale derselben Art, einem dezenten Glas-Base oder einer raffinierten bleifreien Kristallvase kombinieren. Unsere Produkte werden in Polen mit großer Sorgfalt hergestellt.
Unsere Produkte sind in Kollektionen unterteilt: WOOKAH Original, WOOKAH Classic, WOOKAH Colored und WOOKAH Premium. Neu dazu kam nun auch die WOOKAH Mini.
Das WOOKAH Schnellverschluss-System
Eine technische Lösung, die es ermöglicht, den WOOKAH-Körper schnell und einfach an der WOOKAH-Vase zu befestigen, indem man die beiden Komponenten mit einer kurzen Einstellung aufeinander abstimmt.
Schliff-Verbindung
Eine tüllenfreie Verbindung, die es einfach macht, Adapter an Ventile und Schlauchanschlüsse anzuschließen, ohne dass Tüllen benötigt werden. Die sichere Montage der Teile erfordert keine zusätzlichen Dichtungen.
Wie soll ich meine WOOKAH am besten handhaben?
Da sie aus natürlichen Materialien hergestellt werden, benötigen WOOKAH Produkte eine besondere Pflege. Reinigen Sie Ihre Holzpfeife nach jedem Gebrauch gemäß den folgenden Anweisungen:
Pflegehinweise
HITZE
Schützen Sie Ihre WOOKAH vor direkter Sonneneinstrahlung und halten Sie sie von Heizungsanlagen und Lüftungsöffnungen fern, um das Holz vor dem Ausbleichen und Rissbildung zu schützen.
WASSER
Vermeiden Sie es, die Holzteile Ihres WOOKAHs unter fließendem Wasser abzuspülen und lassen Sie sie nicht auf feuchten Oberflächen liegen, denn auch mit Schutz kann das Holz Wasser aufnehmen.
FRAGILITY
Verwenden Sie kein zu heißes oder kaltes Wasser und ändern Sie die Temperatur des Wassers nicht zu schnell.unsere Kristall-, bleifreien und Glasvasen sind das Endergebnis eines Glasherstellungsprozesses und haben eine begrenzte Garantie.
SCHUTZ
Eine Lackierung schützt das Holz von außen vollständig, Melasse, Kaffee, Tee, Rotwein und andere stark gefärbte Flüssigkeiten sollten jedoch sofort aufgewischt werden.
Wichtige Informationen:
Holzteile müssen bei Zimmertemperatur an einem schattigen Ort gelagert werden.Die Holzteile Ihres WOOKAHs sollten nicht in Wasser getaucht oder auf einer nassen Oberfläche stehen gelassen werden.
Vermeiden Sie die Verwendung von scharfen Reinigungsmitteln.
WOOKAH sollte nicht mit aggressiven mechanischen Werkzeugen wie einer Spülmaschine gereinigt werden.
Das Mundstück kann nicht entfernt werden und sollte nicht zerlegt werden.
Wie reinigt man ein WOOKAH richtig?
Anweisungen zur Reinigung: Entfernen Sie den Korpus der Vase. Nehmen Sie den Aschenbecher und die Öffnung an der Schale heraus. Entfernen Sie die Tüllen und das Ventil vom Adapter.
HOLZTEILE
Verwenden Sie einen Trichter, um das Innenrohr des Körpers oder das Mundstück mit zimmerwarmem Wasser auszuspülen und reinigen Sie es mit einer Kunststoffbürste von innen nach außen.
Spülen Sie die Holzvase von innen vorsichtig mit Wasser, das Zimmertemperatur hat.
Reinigen Sie die Holzteile mit einem feuchten Tuch von außen nach innen.
Wischen Sie mit einem weichen Mikrofasertuch nach und lassen Sie die Stelle vollständig trocknen.
KRISTALL/BLEIFREIES GLAS/GLAS
Spülen Sie es von innen nach außen mit Wasser, das Zimmertemperatur hat.
Reinigen Sie es von außen mit einem feuchten Tuch.
Reinigen Sie die Vase mit einem weichen Mikrofasertuch und lassen Sie sie anschließend vollständig an der Luft trocknen.
Kalbsleder
Waschen Sie es vorsichtig mit Wasser bei Raumtemperatur, das durch ein Rohr gegossen wird.
Achten Sie darauf, dass das Naturleder vor Wasser geschützt ist.
Lassen Sie es vollständig trocknen.

ROSTFREIER STAHL
Reinigen Sie Edelstahlteile unter fließendem Wasser bei Raumtemperatur.
Ein weiches Mikrofasertuch zum Trocknen verwenden.
KOPF / BOWL
Reinigen Sie ihn mit einem weichen Schwamm und warmem Wasser bei Raumtemperatur.
ANDERE
Trocknen Sie die Ösen nach jedem Gebrauch vorsichtig mit Papier ab und reinigen Sie sie unter fließendem Wasser.
Quick Lock System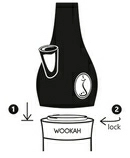 Quick Lock System
Schnellverriegelungssystem für Komfort und Effizienz
Wenn du auf der Suche nach einer überlegenen, technisch ausgereiften Lösung bist, die die Montage deiner WOOKAH-Rauchsäule an der WOOKAH-Bowl nicht nur effizient, sondern auch unglaublich bequem gestaltet, dann ist das Quick Lock System genau das, was du benötigst. Dieses innovative Schnellverriegelungssystem ermöglicht es dir, mit einer einfachen und schnellen Handbewegung, die Rauchsäule sicher und fest mit der Bowl zu verbinden.
Das Quick Lock System ist ideal für Shisha-Enthusiasten, die ihren Genuss ohne großen Aufwand maximieren möchten. Du wirst erstaunt sein, wie unkompliziert es ist, diese beiden essentiellen Elemente deiner WOOKAH Shisha zusammenzustecken. Durch diese zeitsparende Technik kannst du dich schneller auf das entspannende Erlebnis des Shisha-Rauchens konzentrieren.
Zudem ist das Quick Lock System ein Indikator für die hohe Qualität und durchdachte Konstruktion, die die WOOKAH-Marke auszeichnet. Es erhöht nicht nur die Benutzerfreundlichkeit, sondern trägt auch dazu bei, die Lebensdauer deiner Shisha zu verlängern, indem es eine sichere und stabile Verbindung gewährleistet.
Schlussendlich wird das Quick Lock System deinen Shisha-Aufbau erheblich vereinfachen und dir ermöglichen, mehr Zeit mit dem Genuss deiner Lieblingsaromen zu verbringen, anstatt dich mit komplizierten Montageschritten herumzuschlagen. Investiere in das Quick Lock System für deine WOOKAH-Rauchsäule und -Bowl und erlebe eine nahtlose und effiziente Erfahrung, die deinem Shisha-Rauchen eine ganz neue Dimension verleiht.
Ground Joint Connection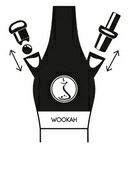 Ground Joint Connection

Schliffanschluss für nahtlose Verbindungen
Bist du es leid, dich mit unzuverlässigen Dichtungen herumzuschlagen, wenn du Ventile und Schlauchanschlüsse mit Adaptern verbindest? Dann ist die Ground Joint Connection genau das, was du brauchst. Diese innovative, dichtungslose Verbindungstechnik ermöglicht eine einfache und sichere Montage von Ventilen und Schlauchanschlüssen mit Adaptern, ganz ohne die Notwendigkeit zusätzlicher Dichtungen.
Durch die Verwendung der Ground Joint Connection kannst du eine nahtlose und feste Verbindung herstellen, die sowohl Zeit als auch Ressourcen spart. Diese Verbindungsmethode ist besonders effizient, da sie das Risiko von Leckagen minimiert und die Zuverlässigkeit des gesamten Systems erhöht.
Für Heimwerker und Fachleute gleichermaßen, die Wert auf eine unkomplizierte und verlässliche Verbindungstechnik legen, ist die Ground Joint Connection ein unschätzbares Werkzeug. Ob in der Hydraulik, Pneumatik oder in anderen Anwendungsbereichen, diese Art der Verbindung eignet sich für eine Vielzahl von Anwendungen.
Die Ground Joint Connection zeichnet sich zudem durch ihre Langlebigkeit und Widerstandsfähigkeit aus. Da keine zusätzlichen Dichtungen erforderlich sind, entfallen auch die typischen Probleme, die mit abgenutzten oder defekten Dichtungen einhergehen. Dies führt zu einer höheren Betriebssicherheit und reduzierten Wartungskosten.
In einer Welt, in der Effizienz und Zuverlässigkeit entscheidend sind, stellt die Ground Joint Connection eine revolutionäre Lösung dar. Investiere in diese fortschrittliche Technologie, um deinen Verbindungsprozess zu optimieren und dir gleichzeitig die Sicherheit zu geben, dass deine Ventile und Schlauchanschlüsse fest und dauerhaft verbunden sind. Erlebe den Unterschied, den eine dichtungslose Verbindung machen kann, und setze auf die Ground Joint Connection für erstklassige Ergebnisse.