Wookah - Mini - Smooth Oak
Product number:
PIP-MINI-WOOKAH-SMOOTH-OAK-SET
In less than 1 week at your doorstep.
Experience the fascinating Wookah Mini - Smooth Oak, a water pipe that masterfully combines exclusivity and practicability. The harmonious interplay between the light, organic oak wood and the finest handcrafted glass gives this wooden hookah a charming and robust craftsman character. Secure this beauty in our Hookain online shop at an unbeatable price and immerse yourself in an outstanding smoking pleasure!
Authentic and Premium Oak Wood
The Wookah Mini Smooth Oak catches the eye with its bright and authentic oak wood. The sturdy and durable wood, valued in the furniture and flooring industry, gives the water pipe a luxurious appearance. The nuances of oak wood vary from tree to tree and even within the branches, making each piece an unmistakable masterpiece.
Sleek Design and Minimal Weight
The Wookah Mini presents itself in a slim form with a height of 34 cm without a head (with Vorclas head approximately 40 cm) and a lightweight of about 0.5 kg. This makes it ideal for relaxed sessions at home as well as on the go.
Innovative Features
The Wookah Mini Smooth Oak features a Quick Lock System that allows effortless and quick connection of the Wookah smoke column with the Wookah bowl. It is also equipped with the Ground Joint Connection, where the valve adapter is secured by an additional sleeve, so you don't have to worry about a falling valve or valve ball.
Quick Lock System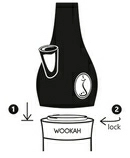 Quick Lock System
Quick Lock System for Comfort and Efficiency
If you're looking for a superior, technically advanced solution that makes the assembly of your WOOKAH smoke column to the WOOKAH bowl not just efficient but incredibly convenient, the Quick Lock System is precisely what you need. This cutting-edge quick-release system allows you to securely and firmly connect the smoke column to the bowl with a simple and swift motion.
The Quick Lock System is ideal for hookah enthusiasts who want to maximize their enjoyment without the hassle. You will be amazed at how uncomplicated it is to attach these two essential components of your WOOKAH hookah together. This time-saving feature allows you to focus more quickly on the relaxing experience of hookah smoking.
Additionally, the Quick Lock System is indicative of the high quality and thoughtful design that distinguishes the WOOKAH brand. Not only does it enhance user-friendliness, but it also helps extend the life of your hookah by ensuring a secure and stable connection.
In conclusion, the Quick Lock System will significantly simplify your hookah setup and allow you to spend more time savoring your favorite flavors instead of wrestling with complicated assembly steps. Invest in the Quick Lock System for your WOOKAH smoke column and bowl and experience a seamless and efficient encounter that adds a whole new dimension to your hookah Smoking.
Ground Joint Connection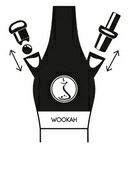 Ground Joint Connection
Ground Joint Connection for Seamless Connections
Are you tired of struggling with unreliable seals when connecting valves and hose fittings with adapters? If so, the Ground Joint Connection is exactly what you need. This innovative, seal-less connection technology allows for an easy and secure assembly of valves and hose fittings with adapters, without the need for additional seals.
By using the Ground Joint Connection, you can create a seamless and tight connection that saves both time and resources. This method of connection is particularly efficient as it minimizes the risk of leaks and increases the reliability of the entire system.
For DIY enthusiasts and professionals alike who value an uncomplicated and dependable connection technique, the Ground Joint Connection is an invaluable tool. Whether in hydraulics, pneumatics, or other application areas, this type of connection is suitable for a wide range of applications.
The Ground Joint Connection is also characterized by its durability and resilience. Since no additional seals are required, it eliminates the typical problems associated with worn or defective seals. This leads to higher operational safety and reduced maintenance costs.
In a world where efficiency and reliability are key, the Ground Joint Connection represents a revolutionary solution. Invest in this advanced technology to optimize your connection process while simultaneously providing the assurance that your valves and hose fittings are securely and permanently connected. Experience the difference that a seal-less connection can make, and rely on the Ground Joint Connection for top-notch results.
Vase Dimensions
Height: 19 cm
Weight 0,5 kg
Package Contents
Head adapter
Coal plate
Smoke column (includes: internal stainless steel piping system that protects the interior of the wooden smoke column from water and smoke, as well as a unique ventilation concept with downward-facing pipes that facilitate the removal of excess smoke. It is also equipped with the Quick Lock System.)
Valve set with Ground Joint Connection
Hose connection with Ground Joint Connection
Dip tube with vaporizer, length: 145 mm
O-ring set
Authenticity certificate
Note: The product image shown may differ from its actual appearance due to differences in the grain tones and color of the wood, as well as the handwork. The same applies to the Vase, which may contain little scratches or irregularities.
WOOKAH
"Why not make a hookah where quality, design, and finish come first?" - They inquired internally.They wanted to create a shisha that would stand out from the ompetition . Every detail, connection, seal and joint was equally important to them, as well as the nature of materials .Additionally, this was the beginning of the concept of using wood.Two words join together with WOOKAH: hookah and wood. Their hookah made of wood.
Their company's symbolic beginning dates back to the Frankfurt-based ShishaMesse trade show in 2015. At this exceptionally fair, they theyre allowed the "Product of the Year" grant. However, they have been in the business since they were students in 2005.
The Wookah Production
Poland is the location of the entire production process. Each of their shishas is distinctive due to the use of a variety of domestic and exotic woods. They use stainless steel, natural leather, lead-free crystal glass, glass, and ceramic in addition to wood. The secret material they use for the interior of their hookahs, lacquers, and glues are approved for use with potable water.They use only materials of the highest quality and carefully select the materials.Their waterpipes are mostly made by hand, but the more intricate ones are made with CNC machines.
You, their client, are their most important customer.They want to treat you like a person.Because they want you to be happy with their products and services, they value every one of your opinions.Additionally, their products can be used with the majority of accessories on the shisha market because they are designed to accommodate individual preferences.Additionally, they are compatible with a variety of other waterpipes.
They will do their best to surprise you every time, staying true to their concept and meeting their high quality expectations.
Visit manufacturer website
Blow Off System:

No

Bowl Adapter:

18/8 Grinded Connector Adapter

Bowl Seal:

Coarse Threaded

Bowl Seal:

Silikon

Color:

Beige

, Brown

, Transparent

Glass:

Clear

Hose Connector:

Plug Connection

Locking System:

Threaded System

Material:

Glass

, Oak

, Wood

Middle Tube:

23 cm

Molasses Catcher:

No

Origin:

Poland

Plate Diameter:

18 cm

Quantity of Hose Connectors:

1

Total Height:

M (up to 50 cm)

Valve Ball Diameter:

9 mm

Vase Height:

19.5 cm

Year:

2022
Order matching Wookah Accessories
Order matching Wookah Accessories